Proceeds from this fundraiser benefit the Council of Rockford Scholarship Fund for Kishwaukee College Horticulture students.
The Holiday Luncheon and Scholarship Fundraiser
took place on December 11, 2019
at Mauh-Nah-Tee-See Golf Club.

Walter Schmitt awarded scholarship
The Council of Rockford Gardeners was honored to present a $2500 scholarship to Walter Schmitt, a veteran of the United States Army, who is studying at Kishwaukee College in Malta, IL. Walt will graduate from Kishwaukee next fall with an Associate degree in Applied Science. His specialties are ground covers, succulents, aquaponics and hydroponics, as well as non-chemical biological control and integrated pest management.  Congratulations, Walter!
Alex Mills, Director at Klehm Arboretum & Botanic Garden gave an uplifting presentation on spring flowering trees and shrubs.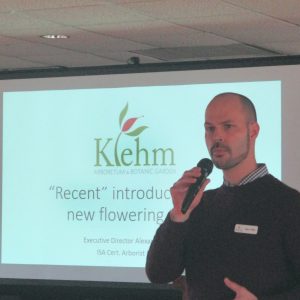 Some of the lovely centerpieces made by Deb Bieschke and Ann Somers.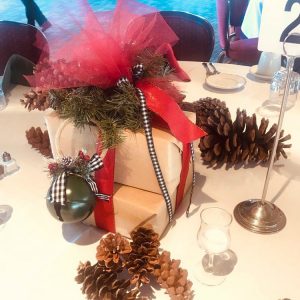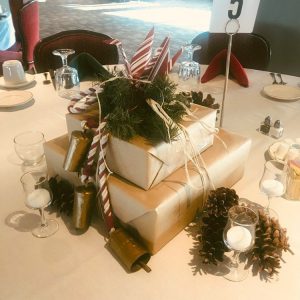 ---
2018 scholarship recipients
The Council of Rockford Gardeners was honored to present two scholarship awards at the Dec. 5, 2018 Holiday luncheon. Congratulations go to Andre Vallejo and Ulysses Vallejo, who were both awarded the scholarships for a second time .
---
Enjoy the photos of the 2015 Holiday Luncheon! – Click Here
Enjoy the photos of the 2014 Holiday Luncheon! – Click Here
Enjoy the photos of the 2013 Holiday Luncheon! – Click Here
Enjoy the photos of the 2012 Holiday Luncheon! – Click Here
Enjoy the photos of the 2011 Holiday Luncheon! – Click Here
Enjoy the photos of the 2010 Holiday Luncheon! – Click Here