The annual
Spring Luncheon and Scholarship Fundraiser
took place on 
Wednesday, April 25, 2018 
At Mauh-Nah-Tee-See Country Club

This year's speaker was
Robb Firch from Meridian Nursery who entertained us and got us all laughing after the luncheon and supplied us with many surprise give-away flowers, shrubs, and garden supplies. Thank you, Robb!! See what Meridian Nursery has to offer by clicking on these links:
https://www.facebook.com/meridiannurseryinc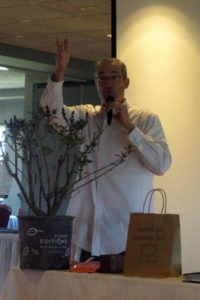 Proceeds from this fundraiser benefit the Council of Rockford Scholarship Fund
for Kishwaukee College Horticulture students.
---
Enjoy a photo journey of the 2016 Spring Luncheon! – Click Here
Enjoy a photo journey of the 2015 Spring Luncheon! – Click Here
Enjoy a photo journey of the 2014 Spring Luncheon! – Click Here
Enjoy a photo journey of the 2013 Spring Luncheon! – Click Here
Enjoy a photo journey of the 2012 Spring Luncheon! – Click Here
Enjoy a photo journey of the 2011 Spring Luncheon! – Click Here
Enjoy a photo journey of the 2010 Spring Luncheon! – Click Here