Proceeds from this fundraiser benefit the Council of Rockford Scholarship Fund
for Kishwaukee College Horticulture students.
COVID-19 is having a dramatic impact on our lives.
We have been directed by our Governor and local officials to shelter in place in order to slow the progress of this disease. 
Our luncheon scheduled for Wednesday, April 29 will, we hope, be postponed and not cancelled. We will share updates as they come to light.
Our annual
2020 Spring Luncheon and Scholarship Fundraiser
hopefully will take place on
Wednesday, April 29, 2020  
At Forest Hills Country Club
We will be celebrating the Council's 40th year with some great activities!
Click here for informational flyer and registration.
---
Two awards were presented at the 2019 luncheon.
The first, a VIP award, went to Peg Goral for her
dedication and service to the Council and other
organizations for many years.
Elaine Parrovecchio (left) presented the award to Peg.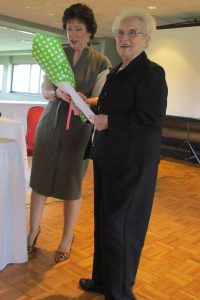 The second award, a $500 donation was presented to Shamika Williams for the organization, KFACT, which mentors and provides services to girls in middle and high school while ensuring completion of post-secondary education.
To learn more, click this link: 
KFACT website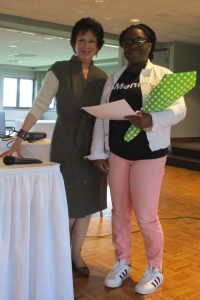 ---
Our speaker in 2019 was Phil Rezin, owner of Wild Birds Unlimited in Rockford and Roscoe, who gave us insight into the value of growing native plants to benefit not only the beauty of our gardens, but also to retain and aid in the longevity of birds and butterflies.
Thank you Phil!
Visit one of the Wild Birds Unlimited stores in our area and see the website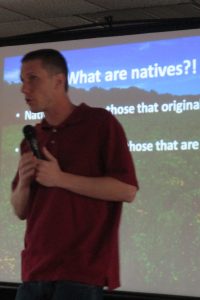 ---
Photos of some of the 2019 Spring Luncheon table decorations and raffle prizes.
---
Photos of 2018 Spring Luncheon.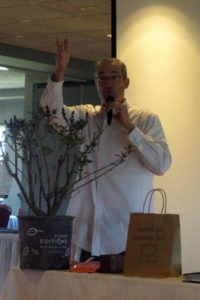 Enjoy a photo journey of the 2016 Spring Luncheon! – Click Here
Enjoy a photo journey of the 2015 Spring Luncheon! – Click Here
Enjoy a photo journey of the 2014 Spring Luncheon! – Click Here
Enjoy a photo journey of the 2013 Spring Luncheon! – Click Here
Enjoy a photo journey of the 2012 Spring Luncheon! – Click Here
Enjoy a photo journey of the 2011 Spring Luncheon! – Click Here
Enjoy a photo journey of the 2010 Spring Luncheon! – Click Here