Proceeds from this fundraiser benefit the Council of Rockford Scholarship Fund
for Kishwaukee College Horticulture students.
Please join us for the annual
2019 Spring Luncheon and Scholarship Fundraiser
on
Wednesday, April 24, 2019 
At Mauh-Nah-Tee-See Country Club
Click here for more information and registration
---
Our speaker in 2018 was Robb Firch from Meridian Nursery who entertained us and got us all laughing after the luncheon and supplied us with many surprise give-away flowers, shrubs, and garden supplies. Thank you, Robb!!
See what Meridian Nursery has to offer by clicking on these links: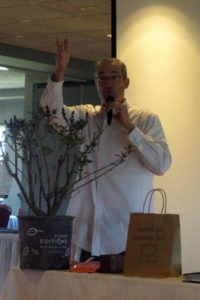 ---
Enjoy a photo journey of the 2016 Spring Luncheon! – Click Here
Enjoy a photo journey of the 2015 Spring Luncheon! – Click Here
Enjoy a photo journey of the 2014 Spring Luncheon! – Click Here
Enjoy a photo journey of the 2013 Spring Luncheon! – Click Here
Enjoy a photo journey of the 2012 Spring Luncheon! – Click Here
Enjoy a photo journey of the 2011 Spring Luncheon! – Click Here
Enjoy a photo journey of the 2010 Spring Luncheon! – Click Here